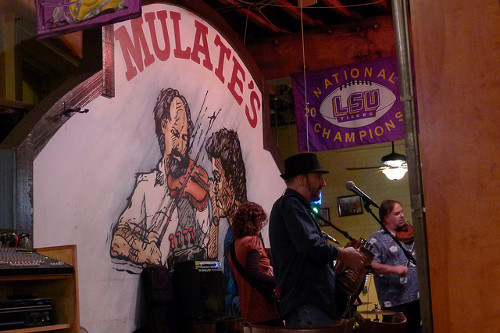 Hey, whenever we recommend a product or restaurant, it's still up to you to make sure that they are safe for you or whoever it is with a peanut or tree nut allergy. We are not responsible for any allergic reactions, okie-dokie?
There we are having a nice day on the waterfront of New Orleans. Then, while waiting in line for tickets at the aquarium, I get a series of alerts saying something to the effect of, "Tornado Warning. Get your butt indoors." No jokes here since some folks in New Orleans East and cities to the West lost their homes and belongings from the series of funnels that touched down. Our prayers are with them all.
While we waited for a serious downpour to pass, we stayed inside of the aquarium which means we had to eat what was available in their food court. One place served peanut butter and jelly so that was definitely out, but they did have a Papa John's which is on my safe list of places to go. They confirmed that they were still safe before we ordered (heck with you, place that rhymes with Hizza Put), so that was lunch. It was a pizza. Here is the Papa John's Allergen Menu.
Dinner was much more interesting. We returned to Mulate's, a restaurant where we had our first taste of New Orleans cuisine many years back. The prices were higher, but the food was still incredible. The server was very helpful, but we had also researched ahead of time and we had received a response to an email. It should probably be noted that when we arrived, we were the only customers in this huge restaurant (and yet, the next people who arrived were seated right next to us - go figure). They do get really busy especially when there is a band. The server told us to stay away from the deserts, but they are kept separately and are never handled in a common preparation area.
We went tapas-style and ordered almost every appetizer on the menu. So far, so good in terms of reactions. Unfortunately, we were way too early for the live music and dancing. One of our fondest memories from our previous trip was a gentleman of a certain age who would walk slowly through the restaurant and ask young women to dance to the zydeco music. By the time he would guide her back to the dance floor, the song would be mostly over.
As stated, deserts should be avoided so it was back to Cafe Du Monde for us.
Bottom line: Mulate's is highly recommended based on our experience today, but you should always do your own research.
Image from Flickr user Sharon. Creative Common License