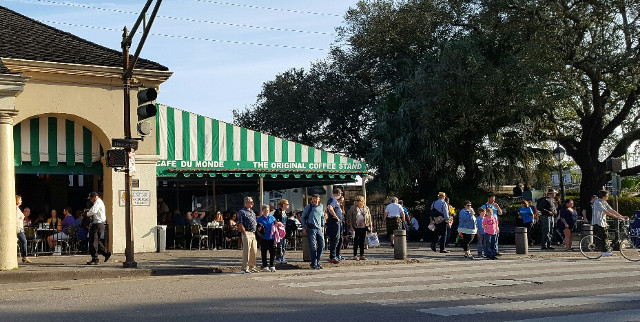 Hey, whenever we recommend a product or restaurant, it's still up to you to make sure that they are safe for you or whoever it is with a peanut or tree nut allergy. We are not responsible for any allergic reactions, okie-dokie?
In researching safe places to eat on this trip, multiple forum users have reported that the world-famous Cafe Du Monde has responded to their email inquiries stating that their operation is completely free of peanuts and tree nuts. They really only make beignets (a small pastry covered in 14 pounds of powdered sugar) and coffee. If you have concerns, I strongly suggest that you go the email route ahead of your visit since the servers, many of whom have a language barrier, are insanely busy moving the thousands upon thousands of tourists through the tightly packed collection of tables.
We have thus far had about six beignets each without a reaction so we will likely only eat beignets for the remainder of our trip.