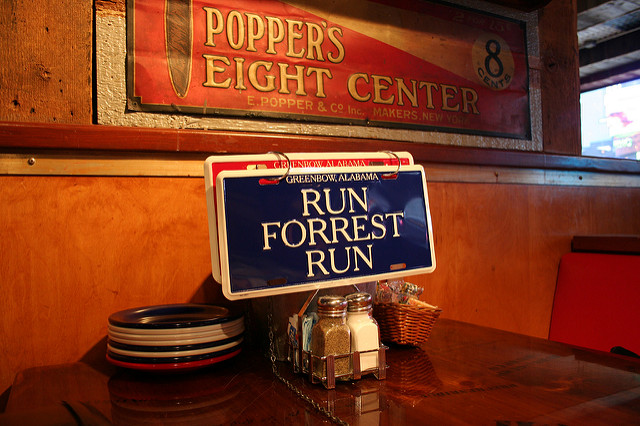 Hey, whenever we recommend a product or restaurant, it's still up to you to make sure that they are safe for you or whoever it is with a peanut or tree nut allergy. We are not responsible for any allergic reactions, okie-dokie?
We came across the same problem as with our first dining experience but it was much worse. There was the cruise ship in port, people here for another cruise that leaves tomorrow, people who just came for the weekend usually wearing a veil and holding a large colorful drink while being following by a group of women wearing matching t-shirts that said stuff like "She's gettin' hitched!", and the 20,000 or so people here for the Rock n Roll Marathon happening tomorrow. Good gosh.
We looked inside of the Bubba Gump restaurant and saw that it didn't look busy at all during the peak dinner time so we went in. We were only one of three tables being used in the dining area of the chain restaurant. Weird. What says Louisiana more than the authentic Cajun cuisine of a movie-based theme restaurant that started in Monterey, California?
Here's the thing: I'm really easy to please. I don't seek out the best burger in the country since I think that In-N-Out Burger makes a pretty darn good one. When people ask me who I think the best Doctor is in the rebooted Doctor Who, I always say it's a tie between 10, 11, and 12 because they're all fantastic. When asked about Star Wars Episode One, I say that it had its good parts. Get the picture?
To focus on the good, our waiter was a really nice guy who handled all of the questions we had about nuts being used in the dishes and the handling of food. He even asked the cooks when he didn't know the answers. My shrimp and grits also turned out really well. Other than that, the experience was not so good. There was a lot of confusion in seating us in an empty restaurant from someone who didn't seem to want to be there. We had the "Stop, Forrest, Stop" license plate up for a really long time before someone showed up to take our order in a restaurant with only three tables being used. Our waiter was told someone else was taking care of us but that person disappeared and never returned. I suspect the Death Eaters from the Harry Potter books which, incidentally, I thought were all equally brilliant with no faults whatsoever. Also, a family-friendly international chain restaurant that doesn't have an allergen menu on their website? C'mon, Forrest, c'mon.
To focus back on the good, no reactions happened and the walk there and back was nice. We'll try for a non-chain tomorrow.
Image from Flickr user Daniel Torres Bonatto. Creative Common License