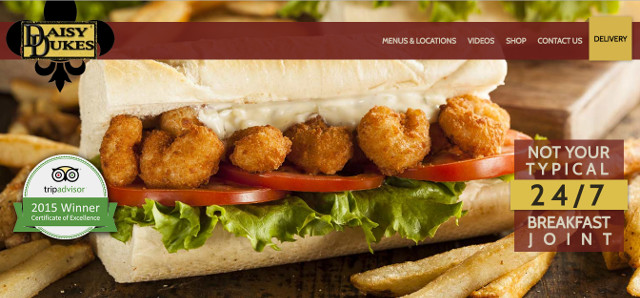 Hey, whenever we recommend a product or restaurant, it's still up to you to make sure that they are safe for you or whoever it is with a peanut or tree nut allergy. We are not responsible for any allergic reactions, okie-dokie?
There are times that everything just comes together perfectly when eating out with a food allergy. We were fortunate enough to have one of those experiences at the Daisy Dukes Express restaurant here in New Orleans. The staff was extra friendly and assured us that they would everything would be prepared in a safe manner for someone with a peanut allergy. Then, the food was incredibly good. We didn't have to worry about the use of peanut oil (I know, I know, you may never have to worry about it) since everything we were getting would be fried in butter. Yuuuuuuummm.
In some reviews of the place, it appears to be a favorite hangout after a night of drinking for some groups so you may get some interesting folks there in the early morning.
Like I say in the disclaimer, do your own research in terms of safety, but we had a top-notch experience at Daisy Dukes in New Orleans.